History
PILOTS
During World War 2, at least one Belgian, 1Lt Charles Goffin, earned his Silver Wings in 1943, wearing the American uniform of the USAAF. He flew 35 operational Recce sorties on Spitfire XI and was killed in action on Sept 8th, 1944.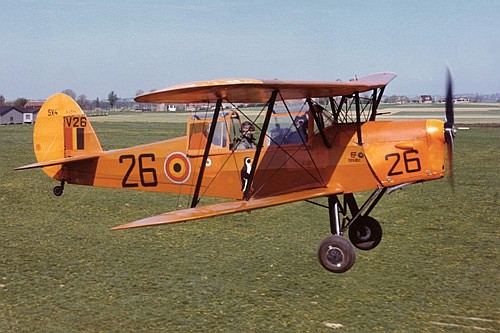 In the early fifties, the NATO Agreement and the Korean war initiated the training of thousands of "Cold War" pilots in the entire world. Belgium used to train pilots at home and later at Kamina (Belgian Congo). However, this was not sufficient to fulfill the huge requirements in terms of bases, squadrons and pilots. The United States offered to train hundreds of students in the USAF schools under the MDAP (Mutual Defence Assistance Program). From 1951 to 1955 our country sent 731 candidates to the US of which 382 cadets and student officers earned their "Silver Wings" in classes 52-A to 55-Z. We call them the first generation.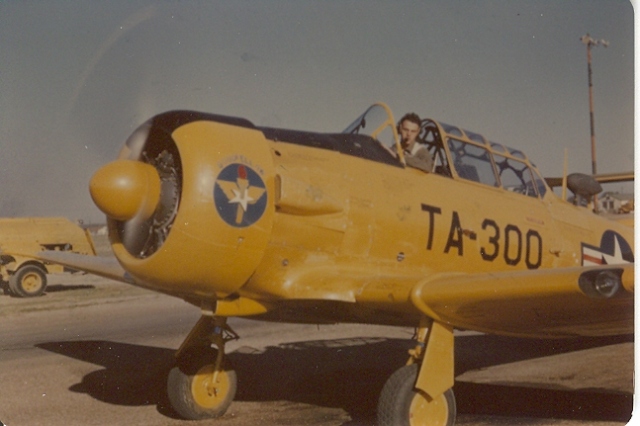 The first 3 classes, namely 52 Able, Baker and Charlie were selected during a short grading in Goetsenhoven and Wevelgem on Tiger Moth and SV-4. Once in the US, they went through Basic Training in Connally AFB (Waco/TX) and Goodfellow AFB (San Angelo/TX) on T6-G, after a 4 week preflight on base. Their Advanced Tng took place in Williams AFB (AZ) on T6-D, T-33/ F-80 and in Bryan AFB (TX) on T-28 and T-33/F-80. After graduation, they returned straight to Belgium without performing a gunnery training.
The high rate of failure in flight and academics of these first guys convinced the authorities to increase the selection phase in Belgium to 25 hours on Tiger Moth/SV-4 and 1 trip on Harvard in Koksijde and Raversijde. The language training was also enhanced to avoid misunderstanding in flight and failing scores in academics. From 1953 on, the candidates went through a preflight and language school at Lackland AFB (Tx), before proceeding to the flying schools. Due to the large number of candidates, the USAF also opened civilian contract schools. From 1953 on, the Basic Tng was called Primary, with a first phase on PA-18 to facilitate the transition to the Texan T-6. The Primary/Basic schools were: Spence Field (Ga), Malden (Mo), Stallings (NC), Hondo (Tx), Graham (Mi), Bartow (Fl), Bainbridge (Ga) and Marana (Az). Flying time was 140 hrs on T-6 or later 20 hrs on PA-18 and 120 hrs on T-6.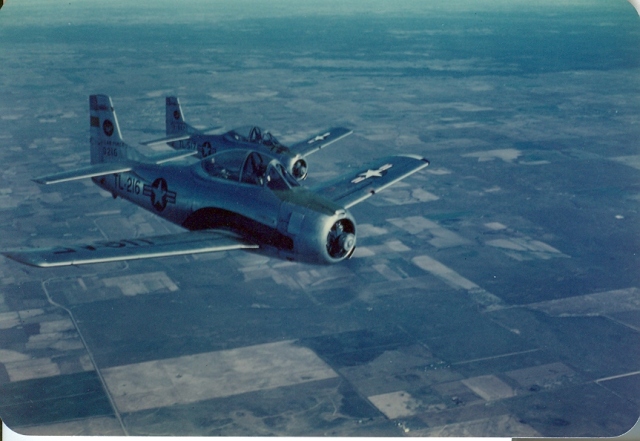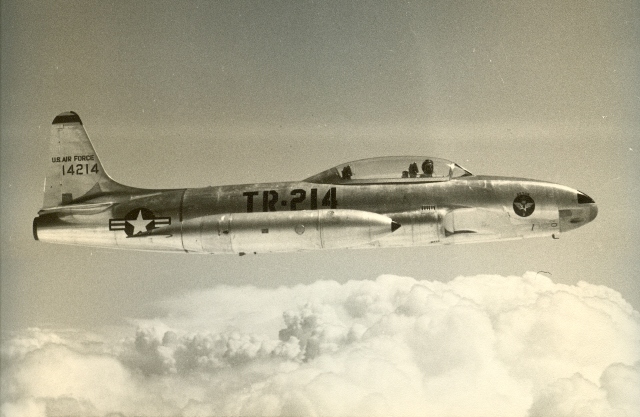 The second part of training called originally Advanced and later Basic was performed in bases such as : Bryan, Webb, Connally, Laredo, Foster, Sheppard, and Laughlin all in Texas, Greenville (Mi) and Williams (Az) on T-6 or T-28 and T-33/F-80. Two classes, namely 52-Fox and part of 52-George did their Advanced on F-51 Mustang at Craig AFB (Al). Flying time was 70 hrs on T-6 or T-28 followed by 70 hrs on T-33/F-80 or F-51.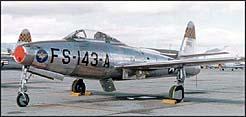 After the first 3 classes and starting with 52 Easy, all graduates of the first generation performed a Gunnery phase, initially all at Luke AFB (Az) on F-84 or F-51. In 1954, due to the high fatal attrition rate, it was decided to split the Gunnery, one first part at Laughlin AFB (Tx) on T-33 and the second part at Luke AFB (Az) on F-84-G for a total of 80 hrs.
Upon returning to Belgium, the majority of graduates rejoined 2 FB Wing at Florennes (1, 2, 3 Sqn), 10 FB Wing at Kleine-Brogel (23, 27, 31 Sqn), 9 FB Wing at Bierset (22, 26, 30 Sqn) and 42 Recce Sqn at Wahn (Ge). They flew initially on F-84-E/G Thunderjet and later on F-84-F Thunderstreak and RF-84-F Thunderflash. From 1951 on, the US MDAP provided Belgium with 21 F-84-E and 213 F-84-G Thunderjet. These were replaced from 1955 on by 197 F-84-F Thunderstreak and 34 RF-84-F Thunderflash. The 3 Reserve officers of the University Flight (53-Fox) were posted to 1 Wing at Beauvechain and 7 Wing at Chièvres to fly the Meteor. After their national service time, they joined the Auxiliary Sqn. Some of the graduates of the classes 55 were also posted to Beauvechain (4, 349, 350 Sqn), Chièvres (7, 8, 9 Sqn) and Brustem/Koksijde (25, 29, 33 Sqn) where the supply of young pilots provided by the national training was not sufficient.
Starting in 1956, many Silver Wings pilots left the Belgian Air Force to join our national airline SABENA, which was largely developing in preparation of the 1958 International Fair. They formed the core of this company's cockpit crews for many years. Others choose to join the business world. A majority elected to stay in the Air Force for the rest of their career. Two of them became Chief of Staff of the Belgian Air Force.
In 1970, the BAF and USAF signed a new agreement to provide flying training for a second generation of Belgian trainees. Eddy De Sutter and Jean Breuls de Tiecken were the first to earn their Silver Wings on 13 August 1971, with class 72-02. They went to Laredo (Tx), and Reese (Tx). The next students were all trained on different bases. All of them were selected after at least a full Elementary Flying School in Belgium on SV-4 or on SF-260 and their training in the US consisted of 12 hrs on T-41, 80 hrs on T-37 and 110 hrs on T-38.
In 1981, the MDAP training program was replaced by the European NATO Joint Jet Pilot Tng (ENJJPT) and the complete training took place at Sheppard AFB (Tx) with some flying instructors being provided by all participating countries. Their flying training consisted of about 200 hrs, half on T-37 and half on T-38. The first ENJJPT graduates were Serge Mulleners, Jacques Delfosse and Hans Vermaele in class 83-04. Belgium decided to stop this program again in 2004 and the last SW graduates were Demaerel and Van Thienen of class 05-05.
In 2013 the Belgian Air Force decided to participate again in the ENJJPT and did send one instructor and two trainees to Sheppard AFB. These two new Silver Wings graduated with class 14-01. Will this be the restart of a SW programme?
This second generation of Silver Wings pilots, which started in 1970, already includes 88 pilots for the Belgian Air Force and we hope that many more will follow. Upon returning to Belgium, they flew the F-104-G and later the F-16 in Beauvechain (349, 350 Sqn), Kleine-Brogel (23, 31, 349 Sqn) and Florennes (1, 2, 350 Sqn). From 1963 on, Belgium has acquired 100 F-104-G and 12 TF-104-G.They were replaced from 1979 on by 96 F-16-A and 20 F-16-B and supplemented by 40 F-16-A and 4 F-16-B as from 1987 to replace the Mirage 5. Since Charles Goffin in 1943 with the USAAF, the United States Air Force has trained 471 Belgian Silver Wings pilots.
Note: The video proposed under the "Shopping" heading illustrates the pilot training and the first squadron years of the Belgian "Silver Wings".
NAVIGATORS
xxxxxx